Sisters of the Holy Family of Nazareth can be found in many parts of the world. From Australia to Belarus, Israel to Italy, Poland to the Philippines, England to the United States of America, France to Kazakhstan, and the Ukraine to Russia and Ghana we seek to live together as a spiritual family, bound to each other in faith and the love of God, united in our ideals, values, and mission.
Our features, languages, and cultures may be different, we are young, middle-aged, and elderly but one vibrant spirit and a universal vision beats in our hearts and pulses through our ministry: the desire to make God's love known to all we encounter. Community life is a central value in our congregation. Each Sister is supported in this communion of heart and spirit by living with, or being closely connected to other Sisters of the Holy Family of Nazareth.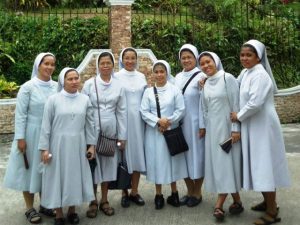 We accept and treasure each person's uniqueness and encourage her to offer her gifts of mind, heart, and spirit generously for the good of the whole. Our personalities are different and so are our talents. And what a great diversity of gifts that is! Our Sisters are poets and writers, musicians and artists of every kind, administrators and teachers, doctors, nurses, and health care professionals, gourmet cooks and seamstresses, computer wizards and economists, psychologists and historians and theologians to name just a few! Gifts of every kind found in personalities of great diversity can find a home with us.
Our Foundress identified "…mutual love as one of the distinguishing characteristics of Nazareth." We try to live together in love, peace, joy, and liberty – the sure signs of the Kingdom of God in our midst. Just as at Nazareth, Mary and Joseph lived an ordinary life in the presence of Emmanuel, in each small 'Nazareth community' we seek to live in a faith-filled home where the love of God reigns.
We share many things together: prayer, a common vision and mission, mutual support and encouragement, laughter, leisure, celebration, work, sometimes tears and challenge. We cook and clean and do all the normal things families do each day – and we do it all convinced that in these simple activities and interactions we mysteriously encounter the God who dwells among us. Since we are all called together as God-seekers, every local community arranges times for daily common prayer, which generally includes participation in Mass and the Liturgy of the Hours. Decisions are made interdependently, after discernment and dialogue.
Community Profile
Current Membership in the Congregation (December 31, 2022):
• Sisters in final vows: 1018
• Sisters in temporary vows: 27
• Novices: 15
• Postulants: 4
• Total Membership: 1064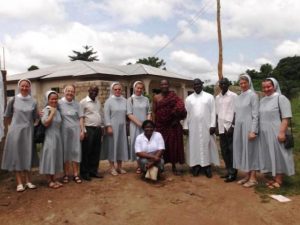 The Congregation of the Sisters of the Holy Family of Nazareth has been an international congregation of religious since its founding in 1875, by Blessed Mary of Jesus the Good Shepherd. The Sisters live and minister in Africa, Asia, Australia, Europe, Middle East and North America. They are located in fourteen countries around the world, having their Generalate in Rome, Italy.
Skip to content