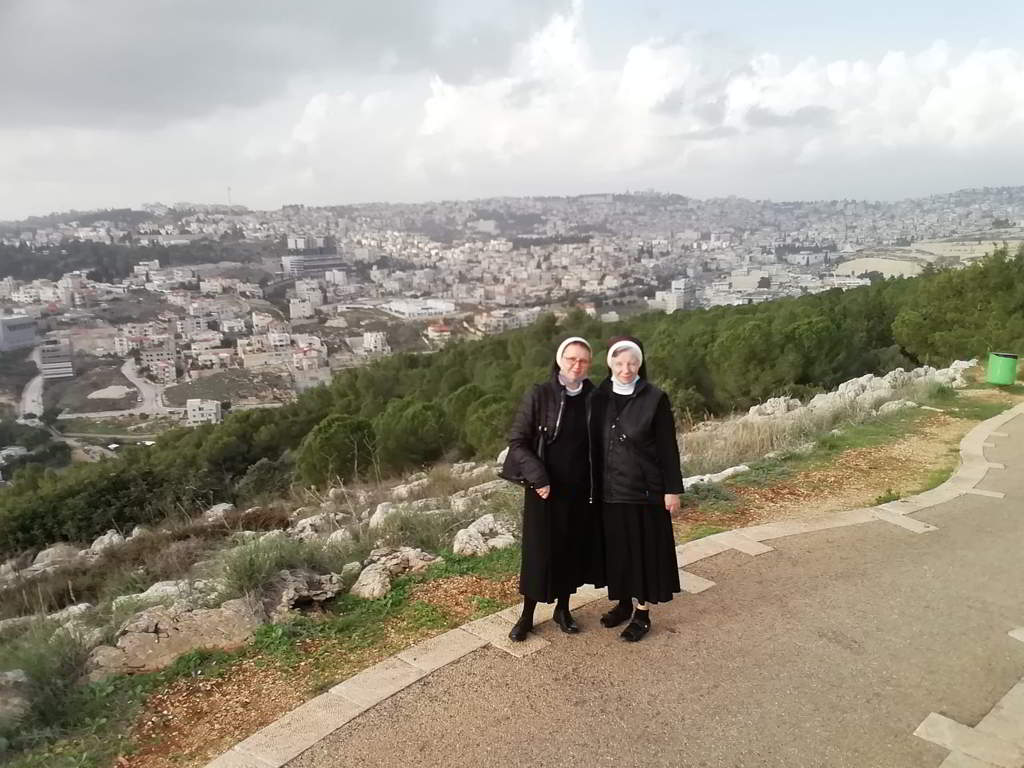 My first experience of Nazareth (Israel) is certainly very different from that of the Sisters who came here before me. Having arrived at the peak of the pandemic, I stayed in quarantine for the first two weeks.
My first venturing outside the walls of the Patriarchate was, of course, to the Basilica of the Annunciation, which is just around the corner from our place of residence. The Basilica itself made a huge impression on me, a very beautiful, prayerful church… The place where Mary said her YES to God, not knowing what she was agreeing to… Just like in our lives, unlimited trust in God is necessary to do His will. On my way to Nazareth, I had only one dream… I wanted to kiss Mary's feet in the beautiful statue of Mary of Nazareth, which all the Sisters probably know. I couldn't believe when the iron grate opened just for me, I could go in and kiss her feet. After all, I did not ask anyone for this, only she knew about it…
On the same day, the Sisters took me to Mount Precipice, which is also quite close to the Patriarchate, about 15 minutes by car. From the top, there are beautiful views of almost all of Nazareth and its surroundings. When I look at this holy land, my thoughts always run to biblical descriptions. I think about Jesus, about the apostles and about Mary. We travel by car, but over two thousand years ago, they had to walk everywhere, and these are distances that require persistence and strength. I also often think how Jesus' desire to share with us the Good News about the Kingdom of God was so great that He did not pay attention to distances and to the effort required to cover them. For Him, the most important thing was that people believe in the love that God has for us… because only faith in His limitless love makes us truly happy, free people, children of God.
Sr. Bogusława Machowska
Over the last four years, I had the grace of being in a small community of three where I could imitate the life of the Holy Family, in the place from where "Love" went out to the whole world. For the last four years, I had the grace to minister in our house in Nazareth. It was a beautiful, unforgettable time in which I was able to touch places so important to every Nazareth Sister. In our everyday life, made up of prayer and work, I was able to come to know the rich Arab culture, with customs so different from ours European ones. Being in close proximity to the Basilica of the Annunciation and the Church of Saint Joseph, I was able to draw strength for my ministry in the vicariate of the Latin Church. Every day I was able to meet the people who visited our house, pilgrims who came in large numbers to Nazareth. Thanks to Bishop Giacinto Marcuzzo, and in the last three years also Fr. Vicar Hanna Kildani, I was able to visit many places important to our Christian faith. I was able to follow in the footsteps of Jesus in Jerusalem and many other places in Israel and Palestine. These wonderful places will remain in my memory forever. Hearing the Gospel during daily Mass, I have before my eyes the places where I was able to visit. Recently, due to the coronavirus pandemic, the Holy Land has been deserted. The busy streets of the old city in Jerusalem or in Nazareth have been empty. There are no pilgrims or tourists. Many Holy Places are closed awaiting the pandemic to end. My experience of the Holy Land is a call for me to follow the Lord Jesus faithfully in every place where I will be sent in my religious life.
Sr. Faustyna Kamzol
It was an experience of so much joy and love in my heart when I arrived in our formation house in Sunyani. The postulants welcomed me in the way Ghanians do. They sang, danced and offered other Ghanaian gestures of love, respect and welcoming. They even greeted me with their own language. Like "Akwaaba Sister! Wo ho te sen? Ekwan so? Aha dee bukuu wo na wo nam?"  It means: We welcome you Sister! How are you? What is your mission? And why you are here? Automatically, I responded to them with a smile, because to be honest I didn't know what to answer. It seems like an easy question, but it's difficult because my mind was still wondering…Then I remembered what a priest once told me, that wherever you are, always know your identity. And if you know your identity then you will know your purpose. Then, I said to them "Thank you so much, I am wonderful 😄. My mission is to be with you, to work with you and to live with you… And I am here because Jesus is here." Because of their questions I was reminded of my own identity, that I am the beloved child of God, and my purpose is to be with Jesus.
During our walks going to the church, people are nice and the children are smiling. I was very impressed with them. They are beautiful soul people. They have a unique and simple way of living. Being here moves me to widen my thinking. Because being with them doesn't feel like being on mission but simply like real love.
I pray that throughout the rest of my journey in this beautiful land of Ghana, Africa, I will know more of HIM, my only reason and purpose.
Sr. Linda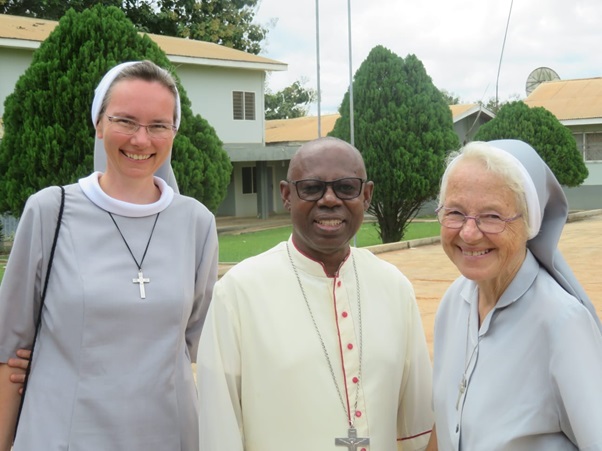 And the first impression may be just this: everything is really different, different from what I was used to.
But God is unchanging and His presence in the Word and the Eucharist is unchanged. He knows no boundaries or distances. And it is in HIM that I also find the same Nazareth here.
Maybe that is why, despite the "otherness" that surrounds me, I primarily experience being at home and the ordinary life of a Nazareth community. I am simply HOME, one of the many homes scattered around the world 😊.
From the very beginning, I was captivated by the great kindness, openness and simplicity with which I was welcomed by the local inhabitants. Hence the wish of our parish priest: "Feel at home in Ghana" came true after only a few days…
Sr. Vianeya
I have recently started the third year of my stay in Spain. I never thought that I would be able to live outside Poland and serve in a missionary house. Therefore, I would like to share my experience of the mission on Spanish soil. As you have read before, we try to respond to the needs of the dioceses and the parish where we live.
From the very beginning, I have been helping in the parish Cáritas, which is attended by about 60 families each week. Benicasim is a tourist town, so many people do not have a permanent job, only seasonal – during the holidays. The situation has worsened this year because of the pandemic. Therefore, many of them were unable to take up even this seasonal work. I know most of these people by name, and each time I learn more about their families, problems and daily struggles, I am moved by their gratitude and their enthusiasm not to give up. All those who help with me in Cáritas are volunteers, devoting their time selflessly. Very often I can see how they help others by paying with their own money, e.g. for the purchase of a medicine or other urgent needs. We often encounter very difficult situations, the only solution of which is to remain on our knees before God. Cáritas is a place that teaches me to trust in God and that even the smallest gesture, such as a smile, means a lot.
Since the last school year, together with Sr. Michalina, I have the privilege of accompanying children in the "Oratory" in the diocesan Mater Dei Catholic School. It is a privilege for me because I have the impression that I am getting more than I give. What is this Oratory? It is a meeting of each child with God, for which the accompanying person, who knows the formation program well, prepares the child. We are the co-leaders. We help and learn this formation. This is not a religion class. It is not a prayer in a chapel. It is a place where every child meets God by listening to His word, by talking to God, by blessing. I am often amazed by the simplicity of the children – especially the youngest ones – in their relationship with God the Father, with Jesus and the Mother of God. Their life of faith is very simple, which I sometimes miss, and so I can learn from them. Each class has a meeting once a week within the framework of their lessons, and each time there is a different topic, a different Bible passage. I am often astonished with how children understand God's Word, how they remember it and keep it in their hearts. Accompaniment in the Oratory helps me to live my faith, to return to my roots and to very simple matters. Often these children experience tragedies in their families, in their homes due to their parents' divorce, arguments or diseases of their relatives. But they always entrust their difficulties to God, knowing that He can do everything. At the same time, our presence at school teaches children and the youth who a religious Sister is; they see us as good people whom they can trust. Most of the children do not know any Sisters who wear habits and lead an active apostolic life. The Spanish Sisters in habit are mainly cloistered Sisters… From this school year, we also want to start the spiritual accompaniment of young people – to be a presence so they will be able to come to us and talk. Within this time, we want to hear what they are struggling with and what problems affect them.
Our mission is like a silent accompaniment of other people on their path of faith. Our mission is listening. A lot of people come to our house to be listened to, to tell their life stories. Responding to these needs, we undertook the responsibility to organize Bible meetings for women, which are based on the Lectio Divina method. We chose the theme: "The Women whom Jesus Loved." Once a month, each of the Sisters prepares a biblical meditation in the dynamics of Lectio Divina about one of the New Testament women. Among them were, for example: the Samaritan woman, Mary and Martha, the widow throwing mite coins into the treasury or the woman suffering from a hemorrhage. About 30 women came for the first meeting. Each Sister, according to the dynamics of Lectio, spiritually accompanies certain women. For me, this is the first such experience in my life, and I am surprised how these women are open to the Word of God. Each of them comes with their own story – sometimes very difficult, but they want to reflect on the Bible and learn to listen. For me, it is also a lesson of listening, of accompanying in such a way that the priority is given to God so that He can act. In this accompaniment, I am learning to be His tool. At the same time, I entrust each of these women in prayer.
I also had the opportunity to participate in the catechesis of children in our parish in Benicasim. Here in Spain, the catechesis of children preparing for First Communion or Confirmation takes place in the parish, not at school, as in Poland. Once a week, after school classes end at 5.00 pm, children come to catechesis at 5.30 pm. The groups are led by laywomen from the parish who put their whole heart into preparing the children for Confession and First Holy Communion within two years. Most children when they begin their first year of catechesis cannot even make the sign of the cross because their families often do not practice the faith.
In fact, the parents of these children also need catechesis. And we, Sisters, entered such an environment. One can see the difference between a child who has had an Oratory experience and one who has not. However, it is heart-pleasing to see how during these 2 years, the children "mature" with God. Participation in catechesis helped me return to the foundations of my faith, to prayers, to the essence of the sacraments. I entrust these children and their families in my prayer. Unfortunately, parents often send their children to the First Communion only because of tradition, organizing a large family fiesta, and not for religious or faith reasons. They often take the children to Holy Mass and do not participate with them, but wait outside the church or go for coffee during this time. We are truly in a missionary land.
Together with Sr. Michalina, we continue to co-organize the days of recollection for girls at the Mater Dei School. Girls from the 4th grade of primary school upwards can participate in them. Such meetings are held once a month at school, where the girls stay overnight from Saturday to Sunday. They are always accompanied by 2 mothers – Mari Carmen and Pilar, who stay with them for the night and keep order. The priest who is responsible for these meetings always gives a conference, prepares exposition of the Blessed Sacrament, and celebrates Mass on Sundays. Our engagement is to prepare something for the body – some games, creative works, and for the spirit – Bible meetings, animation of prayer or preparation for the sacrament of confession. We always prepare a short talk about a selected topic. Sometimes we watch a movie. This school year, we started meetings on the topics related to the Kerygma. I think that our presence at these meetings is important, as the children and young people here do not know any Sisters. For them, being a religious Sister, if it is associated with anything, is only with the fact that she does not leave the convent and bakes cookies. Our first meetings were difficult because the girls didn't know how to behave in our presence. Now they know that you can talk to a Sister, joke with her or play soccer together. It is similar with the children from catechesis or school. They already know that there are Sisters who wear habits, leave their convent and they call us – the friends of God.
In addition, we animate prayers in our chapel: groups of catechists, Caritas employees, parents of catechized children, scouts and others. Sr. Katarzyna and Sr. Jana are preparing for the ministry in "Spei Mater" (helping people who experience the effects of abortion). From this year on, Sr. Jana will be helping in the parish catechesis and – if external conditions allow – she will return to volunteer service in the hospital and home visits to the lonely and elderly people in our parish. Sr. Katarzyna continues her ministry at the Family Aid Center and accompanies those who ask for it (there are more and more of them). In addition, from this year, Sr. Katarzyna will start animating the formation of married couples in the parish and in the Mater Dei School – in cooperation with parish priest and another priest, the school principal.
I know that God needs us here. He needs Nazareth so that He can carry out His plans. He needs our arms, legs, eyes and ears. Life here is not always simple, easy or fun. Here I experience the cross that bears fruit in my life of faith. I meet God in my daily life, in my Nazareth. And for every day spent here, I am grateful to Him.
Sr. Karolina Szpak